Our top 3 communication apps

News   •   April 29th, 2020
Working remotely is something we have done in our office for a long time. Firstly, we strive to be flexible with our staff working hours. Our staff should be able to balance family and work life to benefit everyone. Secondly, as we cover the Nordic market, we have staff in all 4 countries, so we need to adapt accordingly.  Lastly, one of our team commutes between Denmark and Dubai due to family commitments.
With these challenges, we had to adapt early and find ways to work together while being remote from each other. We tested quite a few apps and systems that made our work and life easier and connected us with our colleagues in a seamless way. We had different levels of technical expertise and patience so we had to find solutions that everyone was able to use with ease.
The apps below have become key parts of our lives making remote working seamless and fun at the same time. Even on the rare occasions when we do work together in the office, they still make our work more efficient.
Slack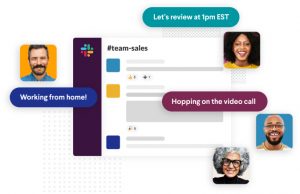 Slack was introduced to us by one of our partners. It is a messaging system that can be used internally and also with clients outside your workspace. The three features we use most are Direct messages, Channels, and Conversations.
Slack instead of emails
Especially on days when we are not sitting together in the office, we send slack messages instead of emails when we need a quick answer on something or to check on a task.  When we would like to call, we check on slack if the person is available. Slack helps manage the email flow, it is easy to check-in and get quick feedback and interrupts daily work less. When we need input on a document, we can attach it or link it to Dropbox.
Channels and project management
Channels are excellent for managing projects we are working on. They could be specific to a client that several team members are working with, a roadshow, or an event. When we have a project, we create a channel and invite the team members involved to join. The others are not disturbed with unnecessary information. We keep all information in one place and the email inbox is bypassed. In channels we share anything that we need feedback on from blog posts, Instagram posts, reports to ideas.
Start a conversation
Another great feature of Slack is that you can break out into a conversation on a topic in your personal messages and that becomes its own thread. This makes it easy to check back on conversations you have had with another team member.
In the office, we use Slack in a similar way. We work in an open-plan office that can be noisy with everyone talking. Using Slack keeps things a lot quieter and makes it easier to concentrate when needed.
Dropbox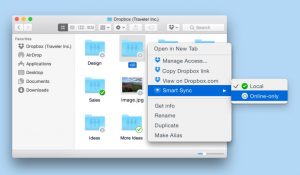 We used to have a server in the office that we logged on to and accessed company files. Working remotely, we needed a more flexible and user-friendly way of sharing documents and files within our team. Files on the system had to be easily accessible both online and offline while the system itself needed not to take up much space on laptops.
GDPR and files
Dropbox met the requirements. It was compliant with GDPR rules and made it easy for us to access our data wherever we were at home or traveling anywhere in the world with a phone signal. We only download documents that we need frequently. Large documents like pictures and videos are only accessed online so computer hard drives stay clutter-free.
Zoom

Zoom has become a new word in our vocabulary – Shall we zoom today? Let's zoom about that. Although working away from each other, we still like to hear and see each other, and Zoom makes this happen. Some things are better done face to face, but video calls are better than a phone call.
Staff meetings
Our weekly updates and project meetings are more effective using Zoom. Presentations can be shared with and received from staff who are not present and meetings, in general, have become better run and also better attended.
Exploring all the features
Up to now, we have used zoom mainly as a meeting room, with the option for break-out rooms, but we are also starting to utilize it for client webinars and training and exploring other possibilities.
We hope you got inspired to link all your apps into each other but also when work resumes back to post-COVID normal, we can continue being flexible in our work set-up.