Magical Moments in the Maldives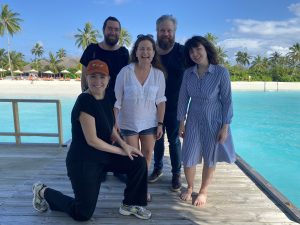 News   •   December 5th , 2022
Christine had the pleasure of escorting a group of journalists to beautiful Maldives, where they got to experience the gastronomy, underwater adventures, learn about sustainability, and experience the luxury on some of the exclusive resorts in the Maldives.
During the trip they visited three different islands and three different resorts, transported by the unique experience of a seaplane to all of the resorts.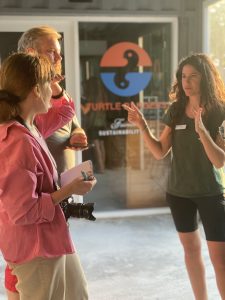 The first resorts they stayed at was Sun Siyam Iru Veli, a 40-minute seaplane ride from Male airport. This is a premium all-inclusive resort with only 125 suites. The journalists participated in a Maldivian food cooking class, had private breakfast on a sandbank and of course tried snorkeling on the house reef.
It is an island – and resort – where the barefoot lifestyle is embedded, and you eat dinner with your feet in the sand.
The next island and resort the journalist got to experience was Fairmont Sirru Fen Fushi. The resort is located on Shaviyani Atoll which is one of the country's largest resort lagoons. Their highlights here were:
Exploring the world's first "Colararium" in Maldives – an underwater art installation designed to preserve corals, and getting a tour of the Sustainability Lab on the resort – a hub for eco-education on the latest in a series of pioneering environmental project for the resort. Here, the journalists got educated on the sustainable practices in helping the resort to become the first zero waste generating resort in the Maldives.
The last resort and island to visit was only 20 minutes by seaplane from the Fairmont resort, and the journalists ended their trip at Le Meridien Maldives Resort & Spa.
The highlight of their stay was most certainly the talk on Marine conservation given by the local marine biologist, who explained why they keep the seagrass on the shore to benefit the sea turtles on the reef.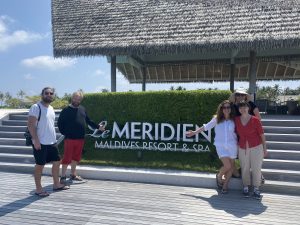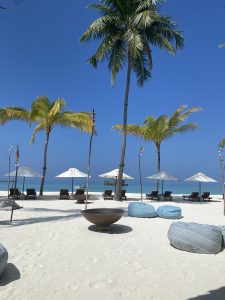 On the green house tour, it was explained how the resort is self-sustained in terms of herbs and salad, and even provides greens and herbs to other resorts. The tour was followed by a green house dinner.
The highlights of the whole trip were the sunset boat trip where the journalists saw almost 70 dolphins playing around, and spotting some rare manta rays that gracefully made an appearance that same evening.