Will Danes spend their holiday pay on travel?

News   •   October 1st, 2020
YouGov and Havas DK has done an analysis regarding how Danes will spend their holiday pay if they decide to have this paid out in Q4 2020. Danes have holiday pay "frozen" in a fund due to a change in our holiday system last year. This money has now been released, to those that would like to have extra money to spend now, instead of when they retire.
1.3 million Danes are ready to use their holiday pay immediately. Before corona-outbreak, there was a focus on reducing spending and change the "throw-away and buy new" culture due to environmental issues. Now there is a tendency to keep spending and even increase the spending to keep the economy going, so if you have a marketing budget available, this is the time to start planning for campaigns.
According to the analysis, it is housing and home that consumers are mostly interested to invest and spend money on. It can be new things for the home, renovation is one of the most things Danes will invest their frozen holiday pay, due to be paid out this month, in. Like the rest of the world, most Danes have already spent a lot of time at home during the corona crisis.  It seems that this has given us a lot of new ideas on how to improve our homes and houses. The analysis gives us hints that consumers have a hunger for new ideas and possibilities. This gives companies that work within areas like kitchen, furniture, flooring, etc to be more present in the market and create more awareness if they like to have a part of that spending.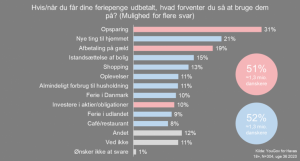 The travel section seems also to get a boost when the holiday pay is available. It seems that Danes are ready to travel again, but of course with the circumstances presently there are challenges. The analysis points out that there is only 9% that will spend their holiday pay on holidays abroad, which probably is also related to that there presently are several travel restrictions in place. But the analysis can see that there is an increasing number of consumers that expect to spend their holiday abroad when looking further into 2021.
So what can you as a destination, hotel, or DMC take from this? Spend the time from now and until travel advisory lifts wisely. Be sure to be on top of mind and build a strong foundation for a call-to-action and sale to your destination, hotel, or with your products, when the world opens up again. Consumers are ready to travel when they can.
The analysis shows that 54% of all Danes would take the opportunity to have their frozen holiday pay, paid out when it opens up for it. That is around 2,5 million Danes. 51% that will have their holiday pay paid out, will use them for installments or investments in stocks or obligations. 52% will use them immediately on consumption
Source: Markedsforing.dk